Hi guys, I planned to write review on upcoming triseries in srilanka. Between SriLanka, India and New zealand.
Here is my view on this series, after many months india going to play a tri series.
Three teams were equally talented and all the teams were in good form too. So ultimately the team which going to commit less number of mistakes gonna win this series. this series doesnot have many matches only 4 match going to held. In that, 3 matches is for qualifying match to finals and a final match.
I think, this series will be a warm up match for three teams before they face champhions trophy which gonna held later in this month.
Key players and Expecting star players who gonna shine in this series:
India:
India is in full form under Dhoni's captaincy. Dhoni boys is fresh now as they were taking rest for few weeks. So they are fresh and will be eager to show their full talent in this series.
Sachin who missed West Indies tour due to injury in his finger, is now back in this series. As he is master blaster and took enough rest, you can expect better cricket from him.

Dravid is once again back to ODI team , after he dropped in 2007. Due to the extra ordinary performance in IPL. He got chance to play in ODI. And he scored two half century in recent local matches with good strike rate. So its a chance for him to prove himself in international level. Hope he wont miss this chance.

Yuvraj Singh is a key player in all aspects, who can change the game for India. He hit century in last West Indies tour and scored runs with good strike rate in local match. Middle order depends on his performance and he will be main player to boost the run rate.


Harbhajan singh is experience bowler in Indian side, since New Zealand is weak in playing against spin bowling. He is key player for India.
Batting track of India is very strong. Sehwag absence will be drawback for india, but aggressive young players were in squad to compensate him. Sachin will open the innings and he will give good start. Yuvaraj, Dhoni , Yusuf are there to boost the run rate and to build strong partnership in middle order by their power pack performance. Last but not least, if openers and first down failed to score runs and scrumbled, Wall is there to hold India. Now a days Dravid is playing with good strike rate, so am expecting good cricket from him.
Minus:
Main drawback for India is their bowling side. There is no key wicket takers.
Gambir out of the tri series due to injury, just before a day to match. So Indians miss a full time opener.
Finally if they play with over confidence, mostly india will lose the match because of over confidence eventhough they are well talented.
Many game breakers are there and have a strong batting line up. Since they have poor bowling side, India should make sure that they should cross 280 if they batting first or should contain opposition team under a total of 260-280.
Trump player : Yuvraj Singh.
Sri Lanka:
Sri lankan were in super form, they reached final in T20 world cup and won the test match in recent time against New zealand. Most of the players in good form. And the main advantage is they going to play in home ground.
Dilshan, he is the key player of Sri Lanka. In recent matches he is the run generator for Srilanka at great strike rate. And he is in terrible form now.

Jayasurya, h is not in good form but you cant guess when he will get his form. Once he start to hit runs, opponent team will be in trouble. If he miss to score runs, he will frighten the opponent by his bowling and in field you cant guess that he 40 years old man. so have a eye on him.

Sangakkara, who is captain and also aggressive batsman for lankan, have talent to adopt any style of batting according to the situation.

Mathews, who will take care of middle and lower order with his aggressive batting performance and will manage to score runs. He is becoming good all-rounder and picks up as wickets at right time.


Murali and Mendis will frightened the opponent with their fabulous bowling performance.
Plus:
Dilshan is plus for their batting line up. Their main plus point is their bowling side. They have world class bowlers. They can scrumble opponent team for cheap runs. And they have good batting line up too. Samaraweera is in good form, he is the leading run scorer for this year in test cricket. Malinga will be waiting to frightened the batsmen with his fast and accurate yorker bowling.
Minus:
There is lack of consistency in batting line up, few batsman's were failed to show consistent performance in their last series. Only few of them is very good in fielding side like Dilshan and Jayasurya. So Sri Lanka have to develop their fielding side.
Sri lanka should make sure that opponent team should not score more runs by their world class bowlers. If there were to bat first Dilshan, Jayasurya, Jayawardene and Sangakkara should make sure not to lose the wicket for cheap runs.
Trump Player : Dilshan
New Zealand:
New zealand team is full of young players, you cant guess they will perform good or bad. Its a typical team. They are good in ODI and T20 games when compared to Test cricket. Recently they won two T20 games against Sri Lanka that held few days ago. So they will try to maintain that form through out the series.
McCullum Brothers were in good form, both of them were frightening opponent team.Its not good for opponent teams to make them stand in crease for long time.

Vettori, he is the key player for Newzealand with his remarkable and world class spin bowling and with his sensible batting.

Taylor, dangerous man. Opponent team bowlers should be sure not to bowl on leg side for him.

Jessie Ryder, he shine in all aspects like bowling, fielding and batting. But the main drawback with him is he wont perform with consistence.

Guptil, mostly will play good but fails to score fifties or hundred. He will be steady until he reach 40's after that dont know what will happen to him, soon he will lose his wicket.
Plus:
Team is build with young aggressive players and good bowling line up. Vettori is the main bowler, he can bowl at any situation and will restrict the opponent players to score runs. Have good fielding set up too.
Minus:
Even though young players are plus point, due to lack of experience it result in minus point for New Zealand. Have good batsman but not consistence, most of the players fails to score fifties or century and lack of partnership were the main drawback for New zealand. Have less game breakers when compared to other two teams.
If New zealand is capable of building strong partnership, and they work on consistency then it will be trouble for opponent team.
Trump player:
When you take New zealand, its tough to select key player. since its hard to guess him. I have two trump player for this team one is Taylor and another is Vettori.
---
Match 1:
Sri Lanka v New Zealand at Colombo (RPS) - Sep 8, 2009
Sri Lanka 216/7 (50 overs):T Samaraweera 104, A Mathews 54; S Bond 3/43,I Butler 2/55.
New Zealand 119 (36.1 overs):GD Elliot 41; SL Malinga 4/28, N Kulasekara 2/18.
Summary
:
Srilanka won toss in the first match of the series and elected to bat first. The openers failed to score runs and fell quickly. Bond and Tuffey gave early breakthrough in the match. Others Bowlers too bowled with that momentum. They lost 5 wickets for just 69 runs. Samaraweera stood up strongly and had a partnership of 127 runs with Mathews. Mathews was then bowled by Bond when he was on 51. Samaraweera after reaching making 100, fell quickly to Butler. SriLanka set a target of 217 for Kiwis. Though Sri Lankan batsmen failed, except Samaraweera and Mathews, the bowlers done a great job to pick newzealnd wickets as early as possible. They lost 3 wickets for just 7 runs. The batting failed miserably to Sri Lankan Bowlers quickies. N McCullum who made his Odi debut, failed to impress, he was duck out. Malinga got 4 wickets and shined in Srilankan victory. Samaraweera given Man of match for his wonderful knock of 104.
Man of the Match:
T Samaraweera (SL)

Match 2: India v New Zealand at Colombo (RPS)- Sep 11, 2009

India won by 6 wickets (with 57 balls remaining)
New Zealand 155 (46.3 overs) : D Vettori 25, J Oram 24; A Nehra 3/24, I Sharma 2/26.
India 156/4 (40.3 overs) : S Tendulkar 46, S Raina 45*; D Vettori 2/33.
Summary:

Its do or die match for New Zealand to stay in competition. But New Zealand batting fell down cheaply with Indian Bowlers good line and length. Though it was tough to chase in Sri Lankan field during night time, Indian batsmen did a fair job. Daniel Vettori was bowling very well and indian batsmen played sensibly to register their their first win in the series. With this defeat, New Zealand were out of the series and India, Sri lanka will compete in finals. India Moved to No 1 spot in Odi ranking.

Man Of the Match:
A Nehra (IND)

Match 3: India Vs Sri Lanka at Colombo (RPS)- Sep 12,2009

Sri Lanka won by 139 runs
Sri Lanka 307/6 (50 overs): S Jayasuriya 98, Kandamby 91*; Harbhajan 1/37.
India 168 (37.2 overs): R Dravid 47; A Mathews 6/20.

Summary:
Indian Bowlers struggled to get their form and Sri Lankan batsmen, especially Jayasuriya was in awesome form, he never allowed the bowlers to settle and in middle order Kandamby carried the score board to move up. Indian Batting too failed miserably in the run chase. Dravid alone managed to get some runs but when he was in good touch, Mathews made damage. He never allowed the Indian middle order batsmen to settle and picked 6 wickets from 6 overs. By this defeat, India team climbed down the ranking to settle at no 3 spot and they stayed in No 1 position for a day alone.

Man of the Match:
A Mathews(SL)
---

Final: Sri Lanka v India at Colombo (RPS) - Sep 14, 2009

India 319/5 (50 overs): S Tendulkar 138, Yuvraj 56*, Dhoni 56; T Thusara 2/71.
Sri Lanka 273 (46.4 overs): Kandamby 66, Dilshan 42; Harbhajan 5/56.

Summary
:
India won the toss fot first time in this series and elected to bat. Tendulkar and Dravid opened the innings. Tendulkar was in awesome form and he scored 138. He played sensibly and scored all over the ground. Dhoni too came up with half century and supported Sachin innings. Yuvraj made 56* in final overs to add to India score of 319. Sri Lanka started positively to chase the huge score of 320. Sri Lankan openers were rocking in fast seemers overs and maintained a high run rate and they were unstoppable still spin bowlers came to attack. Harbhajan gave break through by getting Dilshan wicket who was in great form. Jayasuriya who was dropped when he was on 13, scored 36 before he fell to Pathan. The big turning point of this match was Sangakkara hit wicket. He lost bat balance and slipped it to stumps. Kandamby looked good in his contribution of 66 but he didn't had a proper partner except Kapugendra, wit whom he had partnership of 70 runs but it was not enough to such huge total. Sri Lankans didn't gave up easily before they were all out for 273. Harbhajan broke Sri Lankan partnership at important period and took 5 wickets. Harbhajan played a very important role to ensure India's victory. He along wit Sachin were Match Winners for India in this game.
Man of the match:
S Tendulkar(IND)
Sachin Tendulkar also won Man of the series award.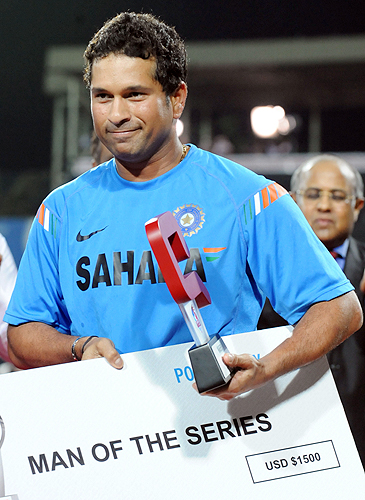 Sachin Tendulkar with Man of Series Trophy and cheque
"The Compaq Cup trophy is first Digital Trophy"
Team India - Compaq Cup Winner 2009